Aussie Home Brewer Milling Motor COMBO Deal!
DC PCB Speed Control Module + Worm Drive Motor 200W, 180 RPM, 20Nm Torque!


This picture above shows the the kit as we supply it (Although it doesn't shop the optional steel shaft we offer).
All you will need to source is a Switch Mode Power supply ($33), a 12mm shaft that goes internally into the gearbox drive shaft and a coupling to go from the 12mm shaft to the shaft dimension of your mill.
A suitable power supply would be a 12V 20A Switch mode Power supply. one we have personally tested is eBay item number 400469998223 for $25.99 AUD with Free Delivery. It is a very good supply. If you want a little something extra up your sleeve, then there is also a 30A 12V available for only $33.99, also with free shipping. Both great value.
If you are worried about rocks or bits of wood in your mill, which can cause it to lock-up and seize, you might want to look at our sense controller, which is offered as a $20 optional on top of the regular package price. Bringing the cost to $159 instead of $139 for the kit with the standard controller. It's slightly more expensive, but will prevent rocks from being crushed in your mill from poorly packaged grain!
This heavy duty Worm Drive motor and gearbox is capable of moving 20Nm of torque at speeds between 150-180 RPM to your mill. The worm drive gearbox itself is extremely tough and can actually handle forces greater than 30Nm for short periods!
The motor package is extremely durable. To give you an example, we had one customer who bought one of the very first units we offered up for sale 5 years ago. They used the motor for 2 years daily while they prepared to open their brewing shop. When they opened the shop, they had the motor running SOLID every day for 3 years.
The customer told me the mill crushed 200kg of grain every single day. All Day. Every Day. Then the gearbox gave out. I don't know about you, but I would consider that incredible value for money, but not only that, it gives you an idea of what you can expect from a quality piece of gear at the right price.
We sourced this unit, because not only is it extremely fast for a worm drive, it also packs a punch in the torque range too. Its a best of both worlds type motor, combining both speed and power. You can mount a load to either side of the worm drive gearbox, though it can only be fixed from one side.
No Load Current: 1.8 Amps
Working Voltage: 12-16V Volts DC
Peak Torque: 20 nM (Newton Meters)
Motor Speed: 3600 RPM/160-180 RPM at Gearbox
Rated Current: 16-20A
STANDARD DC PCB Controller:
This 12V-24V-36V-48V DC Speed controller is rated at up to 30A (continuous) and is suitable for many heavy duty motor applications.
If you are looking for a high quality, yet inexpensive DC Motor speed controller then your search is over!
It was designed and built by us, here in Australia and uses all genuine parts, high quality PCB and a long life.
These are well built and made to reliably power your mill day in and day out for many many years..


SENSING 25A DC PCB Controller:

This controller was designed especially for milling motors. In normal modes of operation if is a simple speed controller. You turn the dial and away it goes.
If there is a problem and the mill locks up, then the controller switches into overload mode.
From there you can reverse the rollers to unblock anything that might be jammed, reset and away you go.

The above shot gives an overview of the connections. At NO stage should you EVER attempt to wire up the Switch Mode power supply. Mains voltage can KILL YOU!
This drawing is for the STANDARD CONTROLLER!
Standard Controller (Above)
Sense controller (Below)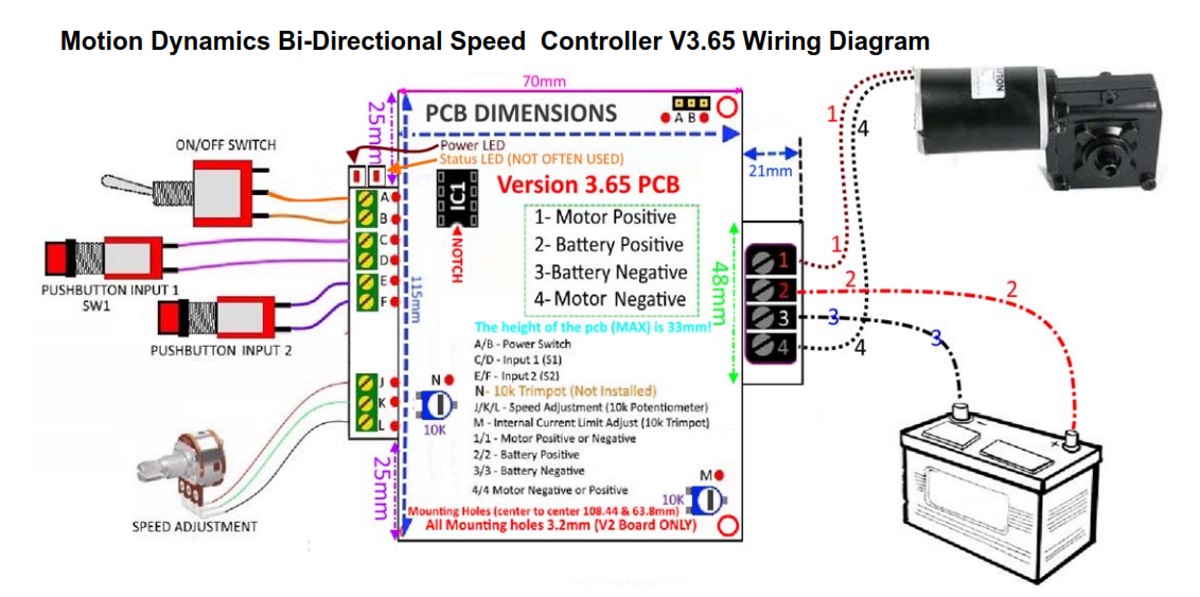 Dimensions of Milling Motor
7